Alberta man wins WESTERN MAX top prize!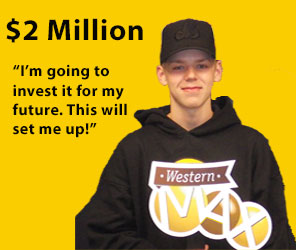 On the morning of September 8, Aidan Boelsgaard was sitting on his deck when he decided to check his WESTERN MAX ticket on the Lotto Spot! app. Boelsgaard had just started playing WESTERN MAX and was curious how he had done on the previous night's draw.
Boelsgaard couldn't believe his eyes when he saw that he had won WESTERN MAX's top prize of $2 million!
The Sturgeon County, AB resident already knows what he is going to do with his windfall.
"It's all being invested," he said. "I'm going to invest it for my future. This will set me up!"
Boelsgaard matched all seven numbers on the September 7 draw. His numbers were 7, 12, 15, 16, 18, 45 and 46.
He purchased his winning WESTERN MAX quick pick ticket at the Circle K at 167 Ave in Edmonton.