Group shares $100,000 EXTRA prize!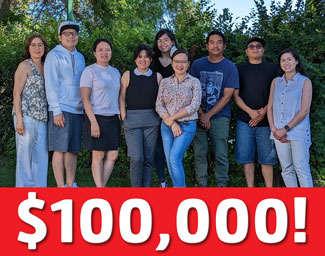 Winnipeg woman informs group of their win in a creative way
Roselind Santos was tasked with purchasing tickets for her lottery group. When she checked the group's tickets for the July 2 LOTTO 6/49 draw, she couldn't believe her eyes. They had won $100,000 on EXTRA!
"I was in disbelief!" Santos said about discovering the win. "I screamed."
That night she told her sister about the win. They thought it would be a nice surprise for the group to find out about the win at a family gathering that was occurring the next day.
"I made a video of me scanning the ticket and discovering the win," Santos said. "For fun, I put it on the TV for all of the group to watch at the party."
However, it was difficult to convince the group that they had actually won!
"Some members thought I was pranking them," Santos remembered. "Another said I was scaming them-- and then another said, 'No way, that's not true!' We had so much fun on the revelations day!"
Santos bought the winning ticket at Kim's Lottery Kiosk in Winnipeg.