THE BIG SPIN windfall for The Pas resident!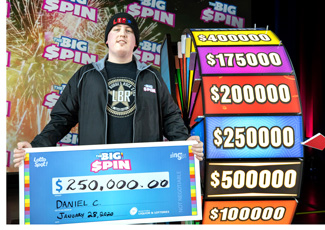 Daniel Cudmore had been looking forward to his Big Spin event for weeks, wondering what was in store. On January 28, he finally stepped onto the stage to spin the Big Spin Wheel. Moments later, he was $250,000 richer!
It all started with a THE BIG SPIN Zing lottery ticket Cudmore received as a stocking stuffer from his wife. The ticket was purchased from Snakland, located at 1st Godard Street in The Pas.
THE BIG SPIN is a $5 Zing ticket with one major difference; not only can players win cash prizes in the same way as with a regular scratch ticket, they can also uncover a "Spin Win", and discover their prize through an animated prize wheel on the screen at their local Lotto Spot retailer.
If the player's Spin Win prize is a "Big Spin", they win $10,000 PLUS a chance to spin a real prize wheel at their very own spin event. The winner will leave the spin event with at least another $100,000, and they could win as much as $500,000!
When Cudmore scratched his ticket, he discovered his Spin Win, and it was back at Snakland that he learned he had won his very own Big Spin.
"I was shocked!" he remembered. "It didn't really sink in until later."
Some of the reality of his win probably started to sink in when he presented his ticket for his prize claim in January. And then, when he received his initial $10,000 prize payment. And finally, when he heard his name called, and he stepped onto the stage to spin for his final prize amount.
He said he plans to use some of his windfall to take a trip to Las Vegas, and he hopes to upgrade to a bigger home.
Cudmore is the fourth top prize winner in Manitoba on THE BIG SPIN since the game launched in March 2019. He's also 10th top prize winner across the Prairies and the North.