WESTERN MAX
Why the West is Best!
WESTERN MAX is available only in the Prairie Provinces and the Territories.
Draws held every Friday!
For just $2, you receive three seven-number selections - you can choose to select one set of numbers and the Ticket Terminal will select two more!
$2 Million top prize and seven additional prizes of $1 million each!
Add EXTRA on Friday for a chance to win that game's $250,000 top prize or $100,000 second prize!

Playing WESTERN MAX by Quick Pick or Selection Slip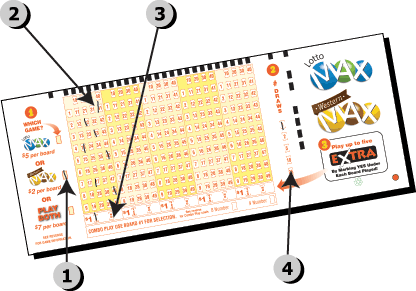 You can play WESTERN MAX by Quick Pick where the Ticket Terminal will randomly choose your selections, or pick your own numbers using a Selection Slip.  You can also choose Play Both to receive the same selections on WESTERN MAX and LOTTO MAX.  Refer to the Play Both box below for more information.

Ask for a WESTERN MAX Quick Pick or select seven numbers from a field of 1 to 49 on the slip.  For each $2 WESTERN MAX purchase, you will also receive two additional Quick Picks.  You can purchase up to five WESTERN MAX on one ticket.

Add EXTRA for an additional $1 per number*. You can add up to five EXTRA (one per each WESTERN MAX purchase) by specifying it with your Quick Pick request or by marking "Yes" under each board played.

Play 1-25 draws. Tell the retailer how many draws or mark the number on the slip. For a number not shown on the slip, leave it blank, and the retailer can enter any number from 1-25. Learn about Advance Play.
*The EXTRA number(s) is valid for the same draw date(s) as the host game listed at the top of your ticket.
More Ways to Play!
Learn about the convenience of Lotto Packs or play your numbers in combinations with Combo Play.
In Manitoba, tickets can be purchased online at PlayNow.com.
About the Draws
WESTERN MAX draws are held every Friday.
Tickets can be purchased until 9:30 pm CT, 8:30 pm MT and 7:30 pm PT on the date of the draw.


Odds of Winning
To win a prize, numbers matched must appear in the same selection (line).
WESTERN MAX Main Draw

| Match | MAIN DRAW Prize | Odds/$2 Play |
| --- | --- | --- |
| 7 of 7 | Win or share $2 Million | 1: 28,633,528 |
| 6 of 7+Bonus | Win or share $100,000 | 1: 4,090,504 |
| 6 of 7 | $1,000 | 1: 99,768 |
| 5 of 7 | $100 | 1: 1,584 |
| 4 of 7 | $10 | 1: 71.3 |
| 3 of 7+Bonus | $10 | 1: 76.7 |
| 3 of 7 | $2 | 1: 8.1 |
Odds of winning any prize are one in 6.6
All odds are approximate.

WESTERN MAX Additional Draws

| Exact Match Only | Additional Draws Prize | Odds /$2 Play |
| --- | --- | --- |
| 7 of 7 | Win or Share $1 Million | 1: 28,633,528 |