Calgary resident wins $200,000 with THE BIG SPIN!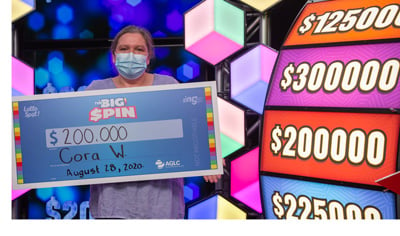 Friday was an exciting day for Cora Wohlgemuth. The Calgary resident stepped up to the Big Spin prize wheel knowing she was going to walk away with a big prize – but she didn't yet know exactly how big. Moments later, she had her answer: she was suddenly $200,000 richer!
Wohlgemuth's journey to the prize wheel started with a $5 THE BIG SPIN Zing lottery ticket she bought back in April. She bought the winning ticket from Bowmart Food Store, located at 1-8607 48 Ave NW in Calgary.
She knew she had won something when she scanned the ticket with the WCLC app on her phone. The app told her she had a Spin Win, and when she took the ticket back to a retailer, she learned that she had won a "Big Spin", comprising $10,000 instantly, plus the chance to spin the big wheel at her own Big Spin event.
"I just said, 'Wow!'" she remembered. "It was so exciting!"
At the time, lottery prize offices in the region were closed to the public due to the COVID-19 pandemic. Although remote prize claims were still available by mail, Wohlgemuth chose to hold on to her ticket until she could make her claim in person.
That time helped to build the excitement for her ultimate spin. In addition to her initial $10,000 prize, she knew she would walk away from the wheel with no less than $100,000 – and up to the $500,000 top prize.
Then, on Friday, she spun the wheel and watched as it slowed, and finally settled on $200,000.
"This could change our lives," Wohlgemuth said in her initial prize claim – before she knew what her final prize amount would be. Although she hadn't made firm plans for the windfall, she said she was excited that it would allow her to realize a dream of helping her parents.