Saskatchewan man is Set For Life!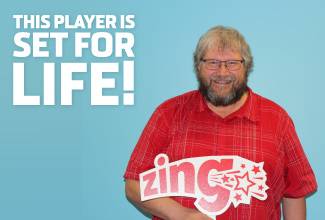 Ceylon resident claims $1 million on SET FOR LIFE ticket he didn't realize he had
An afternoon of running errands turned into a life-changing day for Bradley Nyhus when he discovered he'd had a SET FOR LIFE ticket worth $1 million laying on his table for almost a month.
"I don't know how I didn't see it at home when I originally had scratched it!" laughed the Ceylon resident. "It was laying on my table for three or four weeks, possibly more. I noticed it sitting there when I was on my way to an appointment and to get gas and a car wash."
Nyhus had picked up two $5 SET FOR LIFE Zing scratch tickets along with some other lottery tickets at the Radville Co-op at 122 Hunt Street in Radville in late January, but overlooked his big win. Thankfully, he always double checks his tickets by following up on a ticket checker.
"I started scanning them on the ticket checker. I didn't win on the first few, then I saw a 1, a dash and all these zeroes," Nyhus recalled "I thought it must be an error code!"
It was no error – Nyhus and his excited family verified his ticket five more times at two different ticket checkers. Nyhus had indeed uncovered three 'Set For Life' symbols on his ticket, winning the game's top prize of $1,000 per week for 25 years, or a single payment of $1 million.
He opted for the $1 million payout and while he's not sure exactly what he'll use his windfall for, he's got some ideas.
"I'll use it to pay off the student loans for my three daughters…beyond that, maybe invest the rest and look at retiring," said Nyhus. "I have a running joke with the clerk in Radville Co-op. I always say to her, 'Just once it would be nice to win.' Now here I am."