Manitoba man wins $1 million Guaranteed Prize!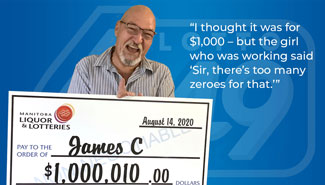 James Case was in disbelief he checked his numbers for the August 5 LOTTO 6/49 draw. The Portage La Prairie resident had won the $1 million Guaranteed Prize draw-- plus another $10 from the EXTRA draw!
"I thought it was for $1,000," he remembered. "But the girl who was working said "Sir, there's too many zeroes for that."
Case has several ideas about how to use his winnings.
"I'd like to purchase an acreage and a newer truck," he said. "And maybe I'll get a hot rod!"
Case purchased his $20 LOTTO 6/49 ticket at the 7-Eleven in Portage La Prairie.