Edmonton couple wins $8.1 million on LOTTO 6/49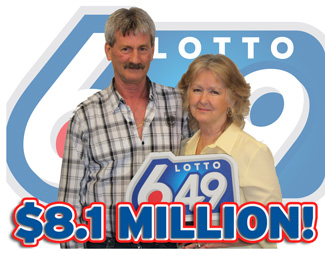 Barbara Fink didn't waste any time getting her husband on the phone after she saw that they had won the lottery. She didn't even know yet how much they had won – but she knew that it was something big. Barbara and her husband, Douglas, won $8,163,061.10 on the February 22 LOTTO 6/49 draw.
Barbara checked the winning numbers on wclc.com on the night of the draw. Douglas was working out of town, so she tried calling him right away.
"He didn't answer, so I waited five minutes and tried again," she remembered. "That time, he picked up. I said, 'I did it again!'"
The Finks have won on the lottery before, although it was no preparation for the surprise Barbara felt this time. In 1989, Douglas shared in a $128,000 LOTTO 6/49 win with four of his friends. And in 2010, Barbara and Douglas won a $100,000 EXTRA prize together.
Barbara knew the prize was much bigger this time – but she still didn't know exactly how much.
"I knew we had all the numbers, but I didn't know how many winners there were," she remembered. "I called Douglas back before midnight and told him it was more than $8 million!"
The couple has one primary principle in mind as they start making plans for their windfall.
"Family comes first," said Barbara. "We want to make sure that our daughters and our grandkids are looked after."
But that's not to say that they won't enjoy the prize themselves. The couple had already planned a vacation to Saint Lucia before their win, and they said they hope to continue to travel. And Douglas said they'll start looking for a new home.
"Barbara wants a new house, so she'll get one," he said.
The winning ticket was a free play won on a previous draw. Barbara redeemed it at Northlands Park, located at 7410 Borden Park Road in Edmonton. Their ticket was one of two issued across Canada that matched all six main winning numbers. A ticket sold in Ontario won the other half of the $16.3 million jackpot.
The winning LOTTO 6/49 numbers on February 22 were 9, 21, 25, 26, 31 and 41.