Edmonton man wins $500,000 DAILY GRAND prize!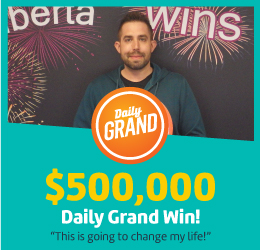 Lee Kremin plays DAILY GRAND regularly and knows his numbers by heart. He couldn't believe his eyes when he checked the WCLC website for the May 12 draw and saw familiar numbers!
The Edmonton resident matched all five of the main numbers (but not the Grand Number) to win DAILY GRAND'S second prize.
"I couldn't believe it," he said about discovering his $500,000 win. "I started to cry! This is going to change my life!"
Kremin has a few plans for his windfall. "I'd like to buy a newer home, pay off some bills and bank some," he said.
Kremin purchased his ticket at Circle K, located at 16741 91 St. NW in Edmonton. His winning numbers were 2, 3, 12, 25 and 32.