Co-workers win $1 million with lottery subscription!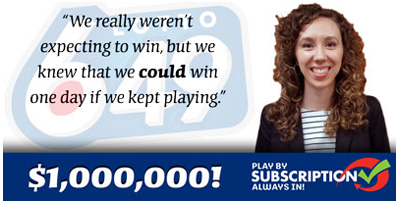 A group of 48 co-workers is celebrating after discovering they won $1 million on their long-time LOTTO 6/49 subscription.
"Some of the people in our group have been playing together since 1997," said Chelsey Volkman, one of the members and a spokesperson for the group.
"I think that's what made this so exciting. We really weren't expecting to win, but we knew that we could win one day if we kept playing."
The group won their million-dollar prize on the February 7 draw – the first of their recently renewed subscription.
"A few people in our group didn't believe me when I sent out the email saying we won," said Volkman. "I think some people thought I was joking because we had just renewed."
"It didn't take anyone too long to realize it was true, though," she said with a laugh. "And after six years, it was really nice to able to give everyone the good news."
The members of the winning group include Edmonton residents Volkman, Terrilee Reid, Darren Gillett, Jennifer Southcombe, Donna Lynn Kumpula, Richard Sparrow, Michelle Unchulenko, Elaine Burkholder and Rebecca Aiken; and Leduc residents Jaime Woinaroski, Crystal Braaten, Claire Davis, Corinne Schneider, Andrea Ryll, Bruce Buss, Leahann Sigurdson, Daniel Borys, Kelly Tremblay, Camen Pezderic, Robert Harrington, Antonia Hansen, Barry Scheelar, Stephanie Vantanajal, Cindy Villeneuve, Diane Miles, Deborah Ponich, Lorraine Kirkpatrick, Laurel Varnberg, Dakota Williams, Esther Rockey, Ann Gibbons and Calvin Monty.
Rounding out the group are: Janet Swift, Jacqueline Larson, Norman Dargis and Mary Vasek of Beaumont; William Romanchuk, Norman Yanitski and Marilyn Andres of Sherwood Park; Gail Vervaeke, Theodore Dykstra, Anna Bennett and Robert Kahn of Millet; Gordon Engberg and Scott Mantai of Thorsby; Dianne Butler and Sandra Fownes of Devon; and Carol Pruneau of Calmar.
"Most of us have been talking about putting our winnings into savings," she said. "I think a few people are going to plan a vacation as well."
The group won their $1 million prize on the February 7 guaranteed prize draw. Their winning number was 26972491-01.