Calgary couple wins $100,000 with lottery subscription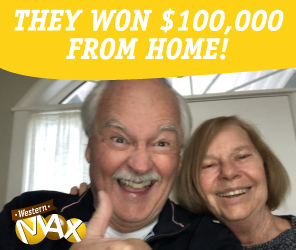 Dave and Peggy Siegfried won a $100,000 WESTERN MAX prize-- and they did it without leaving home to buy or check their ticket!
The Calgary couple have subscriptions for WESTERN MAX and a few other lottery games. With a subscription, players are automatically entered into their desired number of draws and their tickets are checked for them.
The Siegfrieds discovered their win when an employee from WCLC's prize payout office called them to deliver the good news.
"We've had a WESTERN MAX subscription for years," Mr. Siegfried said. "This win is fantastic. We can't believe it!"
The Siegfrieds matched 6 of 7 numbers plus the bonus on the May 8 WESTERN MAX draw. The winning numbers were 11, 19, 20, 24, 25, 27, 50 and the bonus was 23.