A Big Day for THE BIG SPIN!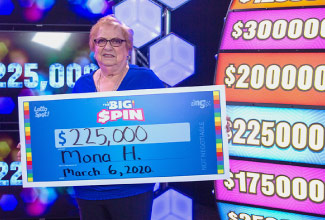 Two Alberta residents spin their way to THE BIG SPIN top prizes!
On March 6, Mona Hardie of Spuce Grove and Sally Taylor of Calgary both got their chance to spin the BIG SPIN Wheel!
Mona Hardie spun THE BIG SPIN Wheel first, and came away with $225,000!
She plans to share her money with family members, some of whom were there to cheer her on as she spun the big wheel!
"I'm just very happy," she said of the experience.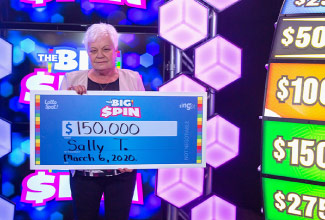 Sally Taylor then took her turn spinning THE BIG SPIN Wheel. When the wheel stopped turning, she was $150,000 richer! Taylor says that she would like to take a vacation, perhaps to Australia, with her winnings. She also plans to get a new car.
"I used to drive Mustangs, so may I should get one of those," she said.
THE BIG SPIN is a $5 Zing ticket with one major difference: not only can players win cash prizes in the same way as with a regular scratch ticket, they can also uncover a "Spin Win", and discover their prize through an animated prize wheel at their local Lotto Spot retailer.
If the player's Spin Win prize is a "Big Spin", they win $10,000 PLUS a chance to spin a real wheel at their very own event. The winner will leave the spin event with at least another $100,000, and possibly up to $500,000!
Hardie purchased her winning THE BIG SPIN ticket at the Petro Canada, located at 100 Kings Link in Spuce Grove. Taylor purchased her winning ticket at Sarcee Petro-Canada in Calgary.