$60 Million Lotto Max Winners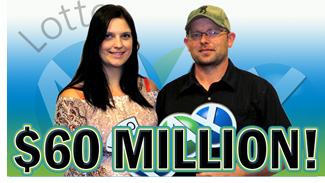 $60 million jackpot is the biggest prize ever won in Alberta.
Alberta's biggest ever lottery prize has landed in Yellowhead County. Brett McCoy and Robin Walker won $60 million on the September 22 LOTTO MAX draw.
The couple said they were together when they bought the winning ticket from McLeod Trading Post in the hamlet of Peers. McCoy laughed when he remembered cashing in another lottery ticket at the same time they bought the winning ticket for September 22.
"I won $100, and I was pretty excited," he said. "I remember thinking that I never win anything."
The couple stopped back in at McLeod Trading Post the afternoon of September 23-- the day after the big draw. This time, Walker went in to buy a couple of items while McCoy waited outside.
"I ran into the store to buy chicken feed and some treats for my kids," said Walker. "I grabbed all our lottery tickets out of the glove compartment."
"A whole bunch of numbers came up on the screen when I scanned the ticket. I thought, 'That can't be right.' So, I scanned the ticket again-- then I ran outside and told Brett we won $60,000."
The store clerk came after me and said, "Robin-- count the zeroes."
In fact, McCoy and Walker's ticket was the only one sold across Canada to match all seven LOTTO MAX winning numbers drawn on September 22. They won the entire $60 million jackpot that evening, setting a new record for the biggest lottery prize ever won in Alberta.
The winning LOTTO MAX numbers on September 22 were 2, 10, 37, 38, 39, 43 and 47. MCCoy and Walker's ticket was an $11 quick pick, with six selections and the add-on game EXTRA entered.
As you'd expect, the couple are feeling overwhelmed as they consider the magnitude of the win.
"It's surreal," Walker said.
"I was pretty excited when I thought it was $60,000," McCoy added. "Thatwould have taken care of a big chunk of our mortgage."
With $60 million to consider, the couple said they don't plan to make any big decisions right away.
"We'll get a few things we need, but we're going to sit tight for now," Walker said. "There's so much to think about."