Kindersley man wins $1 million on LOTTO MAX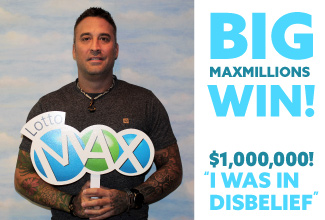 Christopher Graham was surprised by the range of emotions he felt when he discovered he'd won the lottery. The Kindersley resident won a $1 million MAXMILLIONS prize on the October 26 LOTTO MAX draw.
"I had a few tickets to scan, so I used the Lottery Manager mobile app," he said. "I was in disbelief when it happened—after I scanned the winning ticket. Then I just started crying and shaking."
"I always thought if I won the lottery, I would be jumping up and down and cheering with joy," he continued. "But it wasn't like that. It was a lot more emotional than I thought it would be."
Many lottery winners plan a vacation after they win the lottery. But Graham decided to take a quick trip even before he claimed the prize, to help get his thoughts in order.
"After I was sure I won, I booked a trip to Hawaii," he said. "I knew I needed to get my head straight and figure out what I wanted to do with my winnings. That seemed like a good way to do it."
Graham came home knowing exactly what to do with his windfall.
"No plans to retire yet," he said. "I'm going to get back in business for myself."
Graham purchased his 9-number combination quick pick LOTTO MAX ticket at Midtown Foods, located at 128 1stStreet West in Kindersley. His winning numbers – 19, 21, 22, 31, 37, 45 and 48 – were one of 56 MAXMILLIONS selections drawn on October 26.