72 new lottery millionaires in the West in 2022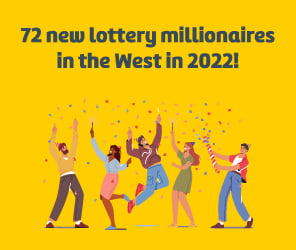 Million-dollar-plus wins in the Prairies, and the North total $319 million!
2022 was a year to remember for dozens of new lottery millionaires in the West. A total of 72 lottery prizes of $1 million or more were awarded to players across Alberta, Saskatchewan, Manitoba, and the North in 2022. The total value of those prizes was more than $319 million – the second-highest ever in the region!
Manitoba welcomed nine new millionaires in 2022, totaling $9 million. Saskatchewan marked 13 new millionaires for a total of $150 million – including a $70 million win for a Regina resident, a brand-new record in the province. Alberta saw $153 million across 49 prizes claimed in the year.
And a player in Rankin Inlet became Nunavut's first-ever lottery millionaire, with a $7 million DAILY GRAND prize. The win was also the biggest and the first millionaire on SubscriptionSpot.ca, a self-serve portal for lottery subscriptions launched in 2021.
A record LOTTO MAX jackpot run
LOTTO MAX game saw a huge run last year, with the jackpot growing for a record number of draws between August and October. The jackpot continued to build over the course of those 20 draws, and 22 tickets sold in the West won $1 million each. And one ticket sold in Calgary won $70 million, setting a new record for the biggest lottery prize ever won in Alberta.
Lotto Spot! app: Buy your tickets from your phone!
Players in our region can now use the Lotto Spot app – available for iOS and Android devices – to buy their tickets for the next draw from the palm of their hand. With the app, players can buy tickets for LOTTO MAX, LOTTO 6/49, WESTERN MAX, WESTERN 649, and DAILY GRAND – and add EXTRA if they wish.
Mobile app tickets are stored within the phone, and you can check them in-app the day after the draw – just like a paper ticket. Prizes under $1,000 must be claimed at a lottery retailer.
Tickets are still available at lottery retailers and you can buy up to a year in advance through Subscription Spot.