Winnipeg man wins second big lottery prize!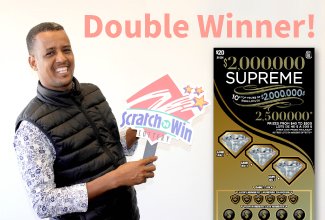 Melhig Melhig may have the biggest smile in Winnipeg today. The Winnipeg resident is beaming because he won $2 million on his $2,000,000 SUPREME SCRATCH 'N WIN ticket.
It's Melhig's second big lottery win; in April of this year, he won $1.5 million on another $20 instant lottery ticket. And nobody is more astonished by this turn of events than Melhig himself.
"It's amazing!" he said. "I feel so happy."
Melhig bought his winning ticket from the Giant Tiger store at 507 London Street in Winnipeg. He bought his previous ticket from the RN Convenience Store at 495 Sargent Avenue, near where he lived at the time.
The winner said his priority after the first win was buying a home for his family. The family moved from a small apartment to a comfortable house.
"Everything is new. We have a nice yard, good schools." he said. "We love it."
One day in mid-August, Melhig visited the Giant Tiger store to buy a game for his children. When the clerk handed him a twenty-dollar bill as change, he asked for a twenty-dollar SCRATCH 'N WIN ticket instead. It turned out to be a $2 million winner.
With this second win, Melhig wants to continue to build for the future. He said he would like to buy a business – "maybe a gas station or car wash".
"But my main goal is to go to school," he added. "I want to improve my English and communication. And I want to learn something useful, like carpentry."
Melhig has no intention of sitting back, and any thought of retirement is years away.
"I'm young," he said. "You always need to think about how to grow."
Melhig isn't the first Manitoban to win a second million-dollar lottery prize. In 2007, a woman won $1 million on a SET FOR LIFE ticket; she had won the same prize on another SET FOR LIFE ticket two years earlier. In both cases, the winner bought the tickets when visiting Winnipeg to attend her grandson's hockey tournament.