THE BIG SPIN Top Prize Won in Strathmore!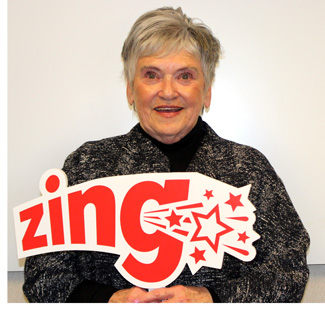 Alberta woman will spin to win a prize from $100,000 to $500,000!
Barbara Cameron of Strathmore is Alberta's first BIG SPIN top prize winner!
THE BIG SPIN is a $5 Zing ticket with one major modification; not only can players win cash prizes in the same way as with a usual Zing ticket, they can also uncover a "Spin Win", and discover their prize through an animated prize wheel on the screen at their local Lotto Spot retailer.
If the player's Spin Win prize is a "Big Spin", they win $10,000 PLUS a chance to spin a real wheel at their very own event. The winner will leave the spin event with at least another $100,000, and possibly up to $500,000!
Cameron bought her winning THE BIG SPIN ticket the Edgefield Co-op Gas Bar located at 140 Edgefield Place in Strathmore. She said she often plays Zing games, but has only purchased THE BIG SPIN a couple of times since it launched in March. That made her even more surprised by her win.
"I scratched the ticked in-store, but didn't know what I won," she said. "When the clerk told me about the prize and spin, I thought she was going to have to pick me up off the floor!"
Cameron has received her initial $10,000 prize payment, but as you may expect, she is still feeling overwhelmed by her win.
"I definitely didn't believe it at first," she said. "And now, I kind of, sort of believe it. I wasn't really expecting this!"
The happy winner said she plans to share whatever winnings she spins with her family. She also hopes to plan a trip to Montreal.