Alberta resident wins POKER LOTTO ALL IN Jackpot!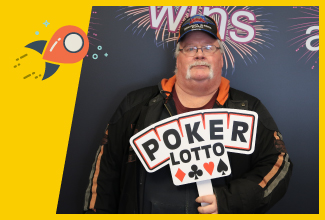 Alain Fournier was surprised to see $186,979.30 flash across the screen after buying a POKER LOTTO ticket on January 25 and adding the ALL IN option for $1.
"I went up to the counter and purchased my ticket," he remembered. "Then I looked up at the screen and saw I won the jackpot!"
"I was overwhelmed, screaming and in shock," he said.
The Falher, AB local said he will use his windfall to pay off his house and share with family.
Fournier purchased his winning POKER LOTTO ALL IN ticket at Original Pete's Confectionary in Falher, AB.