Mankota couple wins $228,799 on LOTTO MAX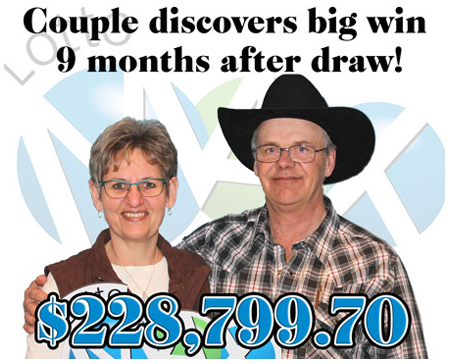 Brent and Joan Baron won $228,799.70 on the April 21, 2017 LOTTO MAX draw-- and didn't know it for nearly nine months!
"We usually buy our tickets and put them away. Then check them now and then in the early morning while having coffee," Joan explained. On the morning of January 10th, it was still too dark to do their farm chores, so they decided to check some tickets before they expired..
Joan read the winning numbers from the computer while Brent checked off matching numbers on their tickets. At one point, Brent left the room for a while. When he returned, they continued checking their tickets. On one LOTTO MAX ticket, Brent realized that they had 6 of 7 numbers plus the bonus number.
"Brent thought I was setting him up--playing a joke on him," Joan said. "He thought I wrote the ticket numbers down on a piece of paper when he left the room, and then just read the numbers to make it look like we had a winner!"
After confirming their win, they high-fived each other. "I had tears in my eyes-- it was surreal," said Joan.
The couple plan to use their winnings to pay off some loans and do some home renovations.