Saskatchewan man nets record $70 million LOTTO MAX jackpot!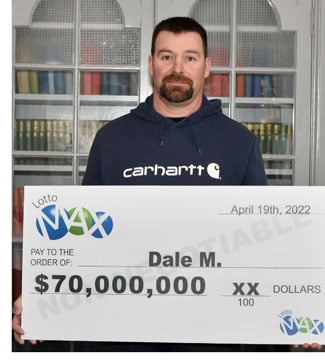 When Regina resident Dale McEwen checked his LOTTO MAX ticket for the April 1 draw, he ruined his family's ski trip.
Nevertheless, there are probably no hard feelings; when he checked his ticket, he discovered he was about to bring home a staggering $70 million jackpot – the largest win ever in the Western Canada lottery region.
"Ski trip ruined!" he laughed while claiming the prize earlier this month. "Basically, all we've been doing since we found out is figuring out what we will do now."
McEwen and his family were driving west through Alberta on their way to B.C. when they stopped at South Country Co-op Gas Bar at 7 East 3rd Avenue in Dunmore, Alta., on April 1, where McEwen picked up his ticket for the LOTTO MAX draw that night.
While waiting to go for dinner the night after the draw, McEwen thought "I might as well check my tickets."
When the Lotto Spot! app told him he was about to be $70 million richer, he couldn't believe his eyes. He immediately shared the news with his partner.
"I told her right away. We were trying to figure out if it was real," he said. "We checked again using the app on her phone."
"We sat there dumbfounded for a while," laughed McEwen. "We didn't know what to do, so I signed the ticket right away and then we called the phone number on the back."
The family cut their trip short and immediately returned to Saskatchewan to start the process of claiming their prize.
"I can't even describe it," explained McEwen while claiming his prize. "Dreaming about winning and actually winning are two very different feelings. You think you know what it would feel like, but when it's in your hands, your mind will not stop and you can't even sleep."
The winner already has some big plans for his windfall.
"We're just going to use it to help family, do some travelling and we're going to upgrade a few things," he said.
"It is stressful – but not a bad stress," he added with a laugh.
McEwen won by matching all seven of the winning numbers for the April 1 draw: 7, 10, 18, 29, 38, 43 and 50.
This $70 million win also caps off a six-month long run of wins in Saskatchewan. From October 2 to April 1, Saskatchewan players have won $200 million in major lottery jackpots.