Kananaskis man wins $250,000 with lottery subscription!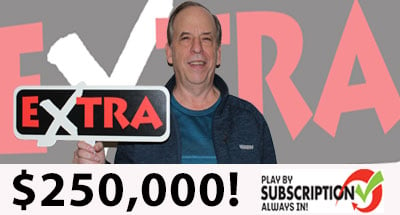 Even though he checks the winning LOTTO 6/49 numbers after every draw, William Hoenmans didn't immediately realize that he had won a big prize with his lottery subscription.
"After every draw I check the winning numbers because I know my 6/49 selections," he said. "I saw that there was a winner by subscription on EXTRA, but I didn't know it was me because I don't memorize my EXTRA number."
Hoenmans says that he and his wife plan to enjoy their winter and do some traveling. "I was just telling my wife that when I turn 65 in a couple of weeks, I would like to go on a trip. Perhaps we'll take a trip to BC after Christmas,"
Hoenmans won with the EXTRA on his LOTTO 6/49 subscription. The winning numbers were 3, 4, 0, 1, 3, 3, 4.