First-ever POKER LOTTO ALL IN top prize winner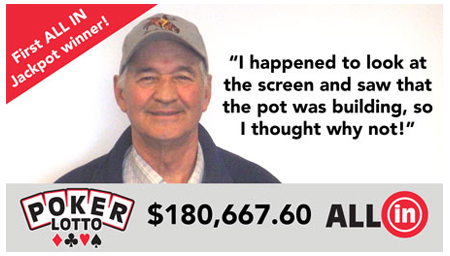 Joseph Peacock is reveling in his decision to add ALL IN to his POKER LOTTO ticket. Thanks to that choice, he
saw his win prize jump from $10,000 to more than $180,000. Peacock is the first-ever Royal Flush winner
on ALL IN.

"My very first thought was, 'No. No way!'" he remembered. "I've never won anything like this before – I
was so excited!"

The Enoch resident purchased his March 23 POKER LOTTO ALL IN ticket at Edmonton West Husky, located
at 11429 266 Street in Acheson. One of the hands on his ticket matched a Royal Flush in hearts, winning
$10,000, plus the $170,667.60 ALL IN jackpot. He also matched two pair on another hand – winning $4.

The happy winner said this win is extra-sweet, because he almost didn't buy the add-on game.

"I always add EXTRA when I buy other tickets, but this was the first time I added the ALL-IN option," he said.
"I happened to look at the screen and saw that the pot was building, so I thought why not!"

"I'm glad I did," he continued with a laugh. "I think I always will from now on."

Peacock said he has a couple plans for his winnings.

The winner said he plans to use his windfall to help his family, trade his van for a newer model, and buy a
new TV.

POKER LOTTO launched in the prairie provinces in March 2017, and ALL IN was added to the game in
February 2018. ALL IN is an optional wager that can be played with POKER LOTTO, and it gives players a
chance at a jackpot that grows with every ticket sold.