Edmonton area co-workers win $261,787 on LOTTO 6/49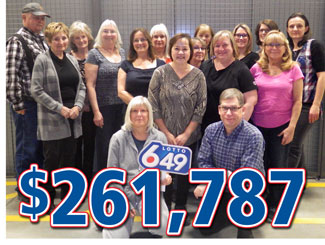 Linda McDonald and her lottery group ended the first month of the year with a major win. The group discovered they won $261,787.50 on the January 20 LOTTO 6/49 draw!
The 16 group members are McDonald, Helen Malanchuk, Michelle Morren, Bernice Bengert and Jessielen Tan of Edmonton; Karen Soltis, Giselle Magosse, Eric Dugan, Agnes Steele and Suzana Lastric of St. Albert; Wayne Willis and Cynthia Gamache of Morinville; Joanne Woodger and Robin Lakusta of Sturgeon County; Teresa Tyschuk of Stony Plain; and Helen Smith of Spruce Grove.
The co-workers have played the lottery together for about three years.
McDonald checked the group's winning ticket online the day after the draw.
"I couldn't believe it," she said. "I texted Cindy right away and then we told the rest of the group. Everyone was pretty excited!"
McDonald said so far most of the winners plan to put their shares of the win toward savings and bill payments. A couple of group members are also planning to travel.
McDonald purchased the group's winning ticket at Britnell Husky Market, located at 3715 160 Avenue in Edmonton.