Couple wins $12.5 million on LOTTO 6/49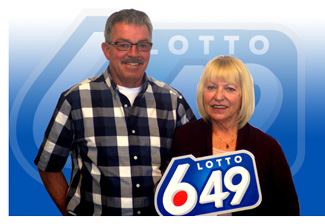 Stella Sacrey and Edward Philpott are $12.5 million richer, thanks to their LOTTO 6/49 ticket. The couple won the jackpot on the Wednesday, February 28 draw.
Sacrey purchased the couple's $7 LOTTO 6/49 ticket at Pigeon Lake Petro Canada, located at 2 Village Drive in Westerose.

The morning after the draw, she started checking the ticket from the bottom up, because she was hoping it had won $100,000 on the add-on game, EXTRA.

"I checked the EXTRA number first, because I read there were two $100,000 EXTRA winners in
Alberta. We won $2 on EXTRA, but it wasn't really what I was hoping for," she laughed.

Sacrey found a lot more than she had hoped for when she checked the LOTTO 6/49 winning numbers. The couple's ticket exactly matched all six main winning numbers drawn – meaning she and Philpott had won the $12,506,188.10 jackpot.

Their winning quick pick selection was 3, 14, 36, 38, 40 and 48.

"I was completely speechless," she continued. "It's one of those things that you just can't believe –
even when you know it's true."

"I was still asleep when Stella came to tell me the news," Philpott remembered. "I didn't believe her at first. You always hope that you'll win something big, but it's overwhelming when you do."

"We're still in shock," continued Sacrey. "We still have the winning jitters!"

The happy couple said they haven't decided what they want to do with their winnings, but they have come up with a couple of ideas.

"We both would like to do some travelling," said Sacrey. "I'd like to go to Ireland, and Ed has always wanted to go to Hawaii."

Philpott had another, albeit smaller, idea for the prize.
"I need to get a new windshield for my car," he said. He laughed, adding, "Well, maybe now I'll get myself a new car."