Co-workers share $1 Million WESTERN MAX win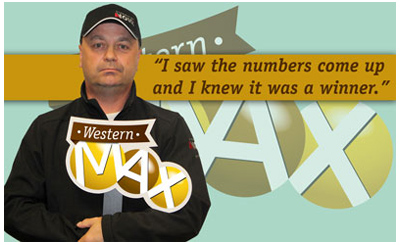 Drayton Valley resident Wayne Maciborsky could hardly wait to confirm that the WESTERN MAX ticket he shared with 10 of his co-workers was a million dollar winner. The group won their prize on the September 8 draw.

"I checked the ticket on the mobile app just after I got to work," he said. "I saw the numbers come up and knew it was a winner, but I wanted to make sure."

"So, I went to the Shell as soon as I could!" he said.

Maciborsky shares the million-dollar win with Joseph Hemphill, Raymond Nils, Megan Berezowski, Brian L'Henaff and Gordon Goforth of Drayton Valley, Michael Konyi of Wildwood; Jody Collins of Tomahawk; Ryan Clark of Breton; Timothy Bell of Warburg; and Richard Charest of Drumheller.

Most members of the group plan to put their winnings, $90,909.90 each, toward bills and mortgage payments.

Meagan Berezowski purchased the group's winning ticket at Drayton Valley Value Drug Mart, located at 5014 56 Avenue in Drayton Valley.