Athabasca couple win $1 million on LOTTO 6/49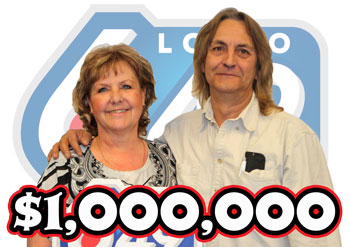 A million-dollar lottery prize was almost an afterthought. Susan Van Rompaey checked her LOTTO 6/49 ticket while she picked up a few items at a local store. She got a huge shock when the store clerk told her to look up at the terminal screen!
Van Rompaey and her husband, John, won $1 million on the April 19 Guaranteed Prize Draw.
"I wasn't paying close attention when the clerk was scanning my tickets," said Susan. "The clerk told me to look, but the amount was gone already."
"The clerk gave me the slip from the terminal, and I thought we won $100,000," she said. "The clerk told me to look again; I yelled out, 'That's a million dollars!'"
Susan called John to tell him the good news.
"When she called me, she was happy, but crying," said John. "I couldn't believe it when she told me we'd won!"
The happy couple plan to use their winnings to pay their bills, invest, and do some travelling.
"I've always wanted to travel more," said Susan. "We went to Mexico a few years ago. And I'd really like to go to Jamaica one day."
The Van Rompaeys purchased their winning LOTTO 6/49 ticket at Buy-Low Foods, located at 4919 48 Street in Athabasca.