Archerwill resident wins $1 million on LOTTO MAX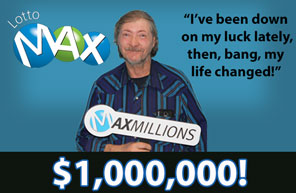 Dick Davis is kicking off the New Year with an extra spring in his step. The Archerwill resident won $1 million on his LOTTO MAX lottery ticket. Davis won one of the MAXMILLONS prizes offered on December 21 to become the province's 15th lottery millionaire of 2018.
Davis bought his $21 quick pick ticket from Archerwill Co-op Bulk Service located on Hwy #35. He discovered his win at the same store the day after the draw.
"I was with my brother, getting gas," he remembered. "He checked his ticket and won $2; then I walked up and checked my ticket."
"I started walking—pacing—around the store," Davis said. "I started yelling, 'Yes, yes, yes!'"
"I felt numb. It was just like a dream!"
Davis said his windfall will help him start a new life, as he recently moved back from Alberta to be nearer to his family. He said he plans to invest most of his prize, and he's thinking about taking a trip to Ireland.
Davis was Saskatchewan's 15th winner of a million dollars or more in 2018, setting a new provincial record.