Red Deer resident plans to set sail with $2.5 million lottery win!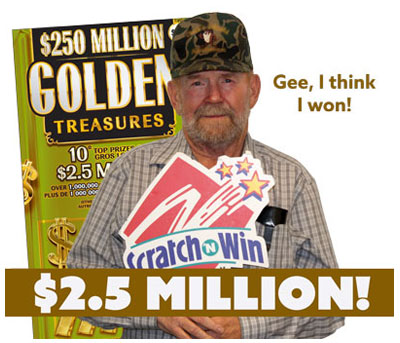 Roy Wiggins doesn't need a fortune teller to help him make a prediction about his future. The Red Deer resident won $2.5 million on his $250 MILLON GOLDEN TREASURES lottery ticket.
"There's a 99.9% chance I'll be on a boat soon," he laughed.
Wiggins bought his $30 SCRATCH 'N WIN ticket from the 7-Eleven store at 6065 Parkwood Road in Blackfalds. He had stopped there for a coffee and a muffin before work.

"I drove to work and scratched the ticket in my car," he remembered. "I thought, 'Gee, I think I won!'"
"I wasn't sure I was reading the amount right, so I drove to the store to double-check it," he added.
With his $2.5 million windfall confirmed, Wiggins's mind turned quickly toward the sailboat he's already imagining.
"I think I'll set sail somewhere along the Georgia Strait," he said.
Wiggins is the second Red Deer resident to become a lottery millionaire in just over six months. In December 2016, another man from the city claimed a $1 million LOTTO MAX prize won on a free ticket.