The new LOTTO MAX is here!

What's new with LOTTO MAX?
LOTTO MAX draws are now twice a week-- on Tuesdays and Fridays.
The maximum LOTTO MAX jackpot is now $70 million!
Two new prize categories (5 of 7 +Bonus and 4 of 7 +Bonus) have been added.
Numbers are now drawn from a range of 1 to 50.
What else should I know?
The price of LOTTO MAX remains the same at $5 per play.
MAXMILLIONS draws will continue to kick in once the jackpot reaches $50 million.
A new $18 MAX PACK is replacing the $9 MAX PACK. The new $18 pack contains LOTTO MAX and WESTERN MAX tickets, with the EXTRA added, for the both the Tuesday and Friday draws.
WESTERN MAX has also introduced more ways to win. Click here for details.
There are now new LOTTO MAX and WESTERN MAX selection slips. They have green on the right side. The old MAX selection slips will no longer work.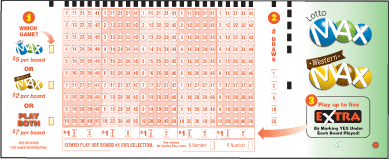 Click here to view the LOTTO MAX Game Conditions effective for May 11, 2019.