WESTERN MAX Combo Play
How to Play WESTERN MAX Combo
Choose to play WESTERN MAX, or Play Both LOTTO MAX and WESTERN MAX. (Play Both Combo Play consists of TWO tickets: A WESTERN MAX and a LOTTO MAX ticket with the same selections as each other.)
Mark an 8- or 9-number combination on the selection slip-- or ask the retailer for an 8- or 9-number combination quick pick, and the terminal will choose the numbers for you.
Mark your eight or nine numbers from a field of 1 to 50 in the first board of the slip. Only board 1 may be filled out to play by Combo Play.
Mark "Yes" under the first board of the selection slip to add EXTRA to your ticket for an additional $1 (EXTRA is $2 on a Play Both selection).
Tell the Retailer how many draws you wish to play or mark it on the slip. You can play 1-25 draws up to a maximim of $1,000 per transaction. Learn more about Advance Play here.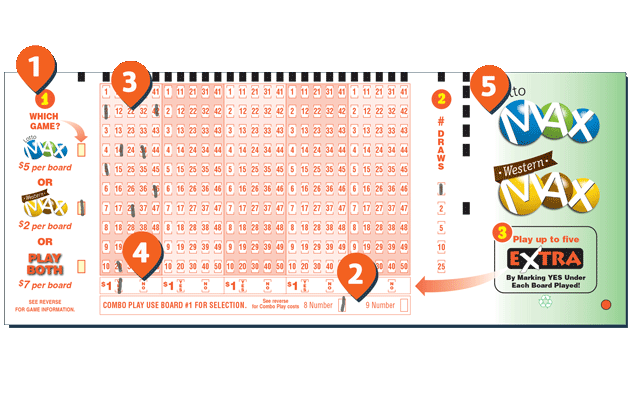 8-Number Combo ($16)
What you Win:

| MATCH | PRIZES |
| --- | --- |
| 3 numbers | Five 3/7 prizes (5 Free Plays) |
| 3 numbers + Bonus | One 3/7 prize (1 Free Play) & four 3/7 +Bonus prizes (4 x $10) |
| 4 numbers | Four 3/7 prizes (4 Free Plays) & four 4/7 prizes (4 x $10) |
| 4 numbers + Bonus | Four 3/7+ Bonus prizes (4x $10), one 4/7 prize ($10) & three 4/7+ Bonus prizes (3 x $20) |
| 5 numbers | Five 4/7 prizes (5 x $10) & three 5/7 prizes (3 x $100) |
| 5 numbers + Bonus | Five 4/7+ Bonus prizes (5 x $20), one 5/7 prize ($100) & two 5/7+ Bonus prizes (2 x $200) |
| 6 numbers | Six 5/7 prizes (6 x $100) & two 6/7 prizes (2 x $1,000) |
| 6 numbers + Bonus | Six 5/7+ Bonus prizes (6 x $200), one 6/7 prize ($1,000) & one 6/7+ Bonus prize |
| 7 numbers | Seven 6/7 prizes (7 x $1,000) & one 7/7 prize |
| 7 numbers + Bonus | Seven 6/7+ Bonus prizes & one 7/7 prize |
Example:
For example, if you choose 1, 2, 3, 4, 5, 6, 7, 8; then your eight different combinations are:
| | |
| --- | --- |
| 1) 1, 2, 3, 4, 5, 6, 7 | 5) 1, 2, 3, 5, 6, 7, 8 |
| 2) 1, 2, 3, 4, 5, 6, 8 | 6) 1, 2, 4, 5, 6, 7, 8 |
| 3) 1, 2, 3, 4, 5, 7, 8 | 7) 1, 3, 4, 5, 6, 7, 8 |
| 4) 1, 2, 3, 4, 6, 7, 8 | 8) 2, 3, 4, 5, 6, 7, 8 |
9-Number Combo ($72)
What you Win:
| MATCH | PRIZES |
| --- | --- |
| 3 numbers | Fifteen 3/7 prizes (15 Free Plays) |
| 3 numbers + Bonus | Five 3/7 prizes (5 Free Plays) & ten 3/7+ Bonus prizes (10 x $10) |
| 4 numbers | Twenty 3/7 prizes (20 Free Plays) & ten 4/7 prizes (10 x $10) |
| 4 numbers + Bonus | Four 3/7 prizes (4 Free Plays), sixteen 3/7+ Bonus prizes (16 x $10), four 4/7 prizes (4 x $10) & six 4/7+ Bonus prizes (6 x $20) |
| 5 numbers | Ten 3/7 prizes (10 Free Plays), twenty 4/7 prizes (20 x $10) & six 5/7 prizes (6 x $100) |
| 5 numbers + Bonus | Ten 3/7+ Bonus prizes (10 x $10), five 4/7 prizes (5 x $10), fifteen 4/7 + Bonus prizes (15 x $20), three 5/7 prizes (3 x $100), & three 5/7 + Bonus prizes (3 x $200) |
| 6 numbers | Fifteen 4/7 prizes (15 x $10), eighteen 5/7 prizes (18 x $100) & three 6/7 prizes (3 x $1,000) |
| 6 numbers + Bonus | Fifteen 4/7+ Bonus prizes (15 x $20), six 5/7 prizes (6 x $100), twelve 5/7 +Bonus prizes (12 x $200), two 6/7 prizes (2 x $1,000) & one 6/7+ Bonus prize |
| 7 numbers | Twenty-one 5/7 prizes (21 x $100), fourteen 6/7 prizes (14 x $1,000) & one 7/7 prize |
| 7 numbers + Bonus | Twenty-one 5/7+ Bonus prizes (21 x $200), seven 6/7 prizes (7 x $1,000), seven 6/7+ Bonus prizes & one 7/7 prize |
Example:
For example, if you choose 1, 2, 3, 4, 5, 6, 7, 8, 9; then your 36 different combinations are:
| | | |
| --- | --- | --- |
| 1) 1-2-3-4-5-6-7 | 13) 1-2-3-5-6-8-9 | 25) 1-3-4-5-7-8-9 |
| 2) 1-2-3-4-5-6-8 | 14) 1-2-3-5-7-8-9 | 26) 1-3-4-6-7-8-9 |
| 3) 1-2-3-4-5-6-9 | 15) 1-2-3-6-7-8-9 | 27) 1-3-5-6-7-8-9 |
| 4) 1-2-3-4-5-7-8 | 16) 1-2-4-5-6-7-8 | 28) 1-4-5-6-7-8-9 |
| 5) 1-2-3-4-5-7-9 | 17) 1-2-4-5-6-7-9 | 29) 2-3-4-5-6-7-8 |
| 6) 1-2-3-4-5-8-9 | 18) 1-2-4-5-6-8-9 | 30) 2-3-4-5-6-7-9 |
| 7) 1-2-3-4-6-7-8 | 19) 1-2-4-5-7-8-9 | 31) 2-3-4-5-6-8-9 |
| 8) 1-2-3-4-6-7-9 | 20) 1-2-4-6-7-8-9 | 32) 2-3-4-5-7-8-9 |
| 9) 1-2-3-4-6-8-9 | 21) 1-2-5-6-7-8-9 | 33) 2-3-4-6-7-8-9 |
| 10) 1-2-3-4-7-8-9 | 22) 1-3-4-5-6-7-8 | 34) 2-3-5-6-7-8-9 |
| 11) 1-2-3-5-6-7-8 | 23) 1-3-4-5-6-7-9 | 35) 2-4-5-6-7-8-9 |
| 12) 1-2-3-5-6-7-9 | 24) 1-3-4-5-6-8-9 | 36) 3-4-5-6-7-8-9 |